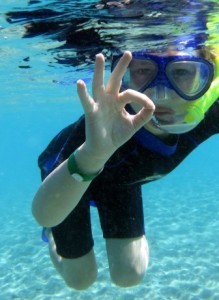 On this website we wish to help you in getting a great experience from snorkeling in the Red Sea. Perhaps you do not know that much about the equipment you need – or how to use it. – we will provide you with some how-to content on snorkeling techniques. Also, some guidance in planning you can do from home, and how to get into the water for the first time snorkeling.
Perhaps you are already an experienced snorkeler? – but you have no idea of what creatures you will find in the Red Sea? Getting familiar with the most common fish species and know where to find them and their names –  will help you to enjoy the marine life the most. What is the top 5 species to see?
Sign up for our newsletter to get the to know the 10 most common fish species. Fish that you definitely will see during your snorkeling trip in the Red Sea.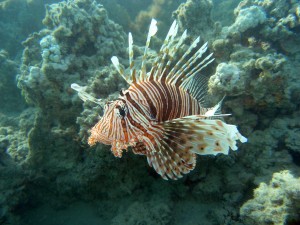 Some species, as the lionfish (above) is poisonous. – learn the most dangerous fish in the Red Sea, before going in the water.
Did you know that abundance of fish in the Red Sea is hardly matched in any other coral reef?
If you have questions or suggestions, please do not hesitate to contact us.
Please sign up for our newsletter, and we will keep you posted, when we launch new content.
Have fun!
Are you missing snorkeling around in the Red Sea? Wish you were there to see all the beautiful fish? Try watching Red Sea Slow-TV! You never know what to expect …