Are you missing snorkeling around in the Red Sea? Wish you were there to see all the beautiful fish? Watch Red Sea Slow-TV on Youtube! You can see many fish e.g. trevally hunting, a barracuda sneaking around, schools of goatfish or relaxed giant emperors…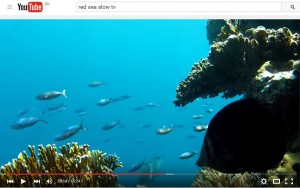 The videos are recordings from different places on the coral reefs in the Red Sea. Typically on the reef edge, so that you can see out in the big blue behind the corals in front of the camera. Go to Youtube and see for yourself.
In one of the videos it is clear that all the fish are busy escaping from some trevallies that passes by very quickly!
Here are some snapshots of what you can see in the videos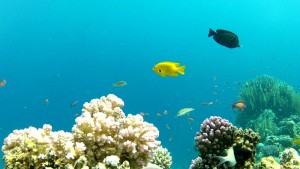 Sulphur damsel – An example from the Red Sea Slow-TV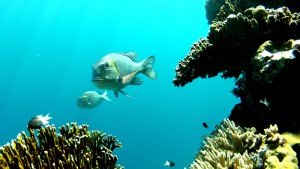 Giant emperor – An example from the Red Sea Slow-TV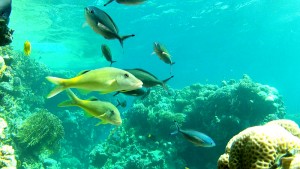 Yellowsaddle goatfish – An example from the Red Sea Slow-TV
Want to see more stills from one of the videos from the outer reef? then click here